A wide range of glass products delivered to your doorstep
Get premium quality products at incredibly low prices.
View products
Try Glassupply's configurators
Fully customize your railing in a few simple steps.
1/2″-thick glass panels are custom cut-to-size based on your specifications, and on the product load test restrictions. Our technical support team is always one click/phone call away, ready to help you with your project.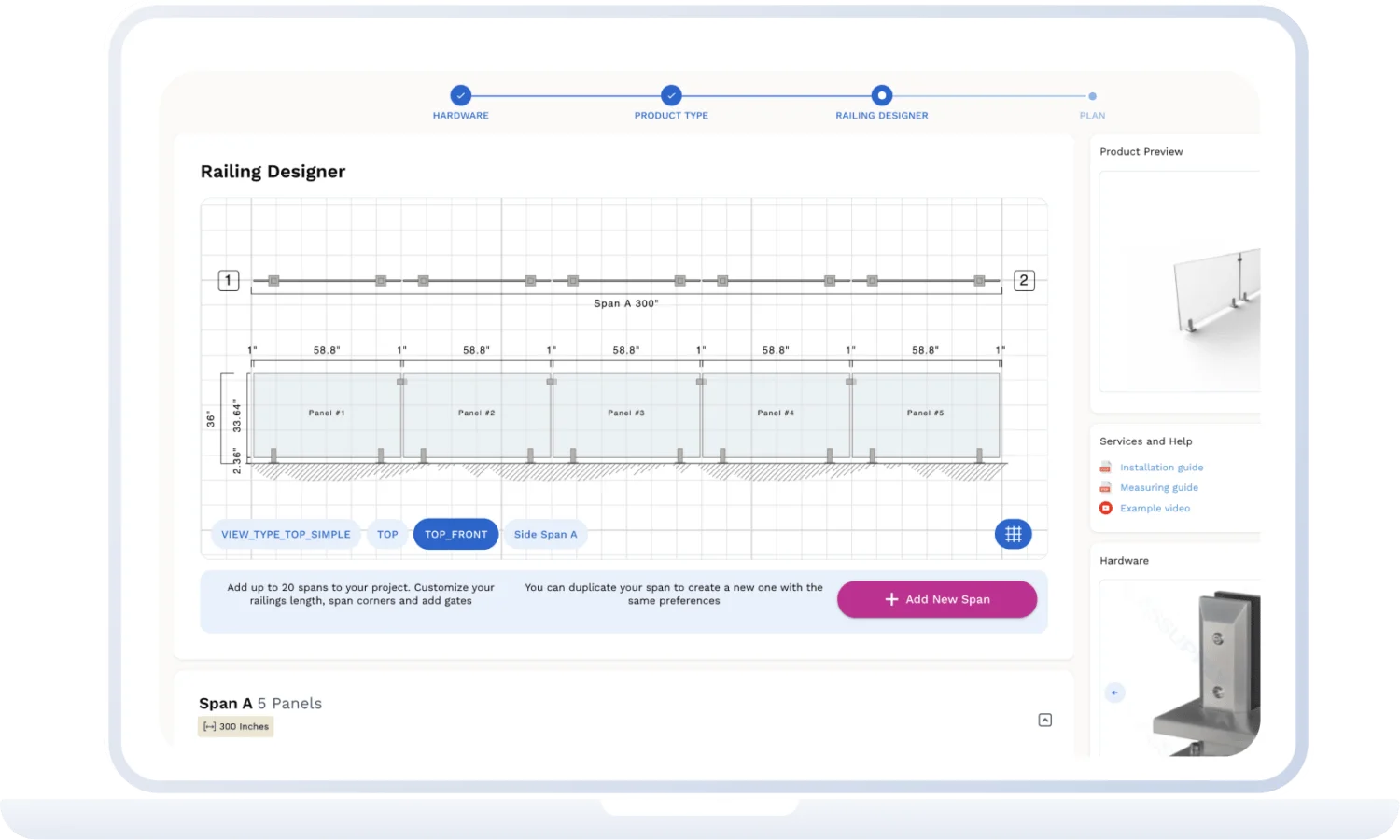 Glass hardware
Glassupply.com offers a wide range of hardware products for glass including shower hardware and glass railing hardware.
Railing Hardware

Choose from a polished (brushed) stainless-steel finish or a smooth Matte Black finish that's electrostatically applied powder-coated and oven-cured for a scratch-resistant, weather-protected surface.

View products

Shower Hardware

Our shower hardware finishing process includes three different applied methods, each resulting in a durable, corrosion-resistant, and visually appealing finish.

View products
Suitable solution for Homeowners, Property Managers, Architects, General Contractors, Designers
Architectural plans

Our software will generate comprehensive architectural plans for your project automatically. Should additional customization be necessary, our technical team will make the necessary adjustments to those drawings.

Load Tests, Local Regulations and Compliance

We offer an extensive array of products and services tailored to various project types, locations, and compliance specifications. Additional documentation for inspections can be swiftly provided upon request.

Straightforward Installation

Our products are meticulously designed to ensure straightforward installation. All the necessary documentation is comprehensively detailed and accessible free of charge through our resource center.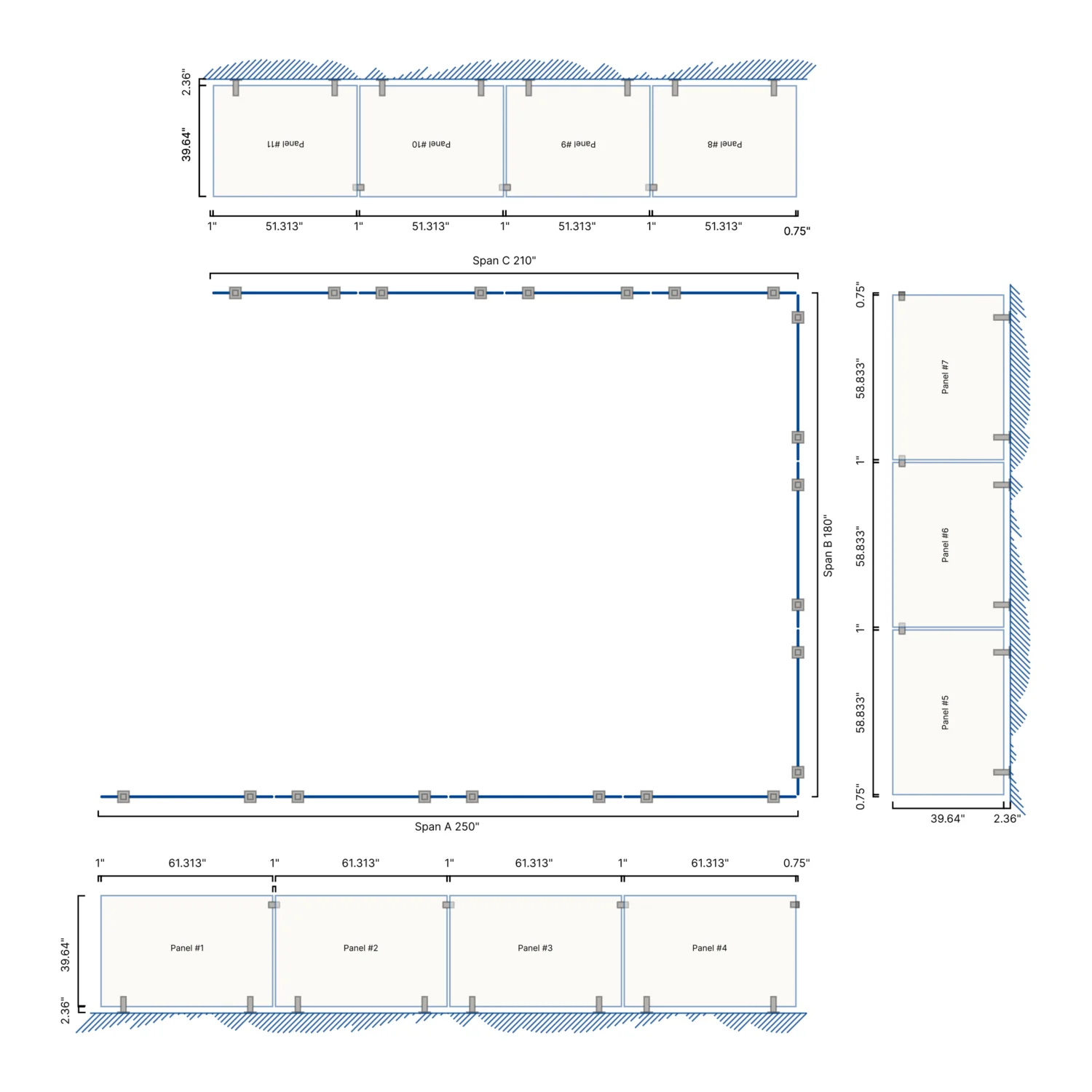 Clients said…
The glass is  up around my deck and I could not be happier! When I decided to put glass around my lakefront deck, I had no idea how to measure it or where to even begin, but after many questions and such expedient and friendly replies from Glass Supply,  I am very pleased.Their product is excellent quality, service is impeccable, delivery was quick and I just love the look!  Thank you Glass Supply.

I couldn't have better things to say about my experience with this coming (Will and Alex specifically). The ordering process was easy, delivery was fast (and cheap…even though it was about 2500 pounds of glass, for a 135 foot railing), and the service throughout the experience was great.  The products themselves are very high quality (don't be fooled buying cheap spigots on Amazon, buy the heavy ones from these guys), and the glass is very strong and crystal clear.  When I was missing one tiny part (little plastic spacers), it arrived couriered the next day at no charge.

And bear in mind, all of this was during a pandemic in early 2020…these guys managed to get it done even though the world was in a very weird place.

Just placed another order for a different project and I wouldn't think about purchasing from anyone else…this is a great little Canadian company.

I would recommend them to all of my friends, or whoever asked me about what your company was like   Great product and Service was even better

We needed a railing that did not obstruct our panoramic view.

We live on a remote island off the grid – careful packing so that the glass would arrive safely was critical.

It had to be affordable.

Our remote location meant we needed help in design and we needed guidance on how to install the railing.

Glass Supply was a 5 star on all points.

Bonus- even though we are exposed to the ocean, high winds and storms the glass stays clean without touching it. This was a pleasant surprise.

Home owner can easily make it look great. Issue with one piece of glass and quickly in reorder process to replace. Great customer support.





Why buy from Glassupply.com?
High-end Glass & Hardware Systems at Manufacturer Direct Pricing

No showrooms

Sturdy packaging

From the workshop directly to you!

We deliver custom cut glass, shower, railings and modern glass door systems directly to you. You get premium quality products at incredibly lower (and much fairer) prices than you would at a typical glass shop or retail reseller.

Learn more

Guaranteed Delivery Policy

Sturdy packaging

Fast

Reliable delivery

Our Delivery success rate is over 99% and is up and running across the country. Free Shipping on orders over $300. Any Damaged orders are replaced at no cost.

Learn more

1-year Warranty on any Manufacturing Defect

High Quality

Trusted Brand

Long Lasting Products

We offer a manufacturer's warranty on all our products. Our 1 year courtesy warranty service covers defects in glass, hardware and or workmanship. If you experience any issues, we will reship the defective product at no cost.

Learn more
UNIQUE PRODUCTS

100% Customizable Products

ONLINE CHECKOUT

Seamless Online Self Service

360° SUPPORT

Chat, Email and Phone Support

SECURE PAYMENTS

PCI Compliant Payments

PRICE MATCH POLICY

Offer details available here