Hardware and Glass Selection

Each element of Glassupply's systems is precision-engineered for longevity and strength. Our customization options allow you to create an enclosure that seamlessly integrates into your space's overall look and feel. From simple fixed panels and single doors to more complex layouts like 90 degree layouts and neo angle layouts, our hardware selection is versatile and adaptable.

Custom-cut Fixed Panels and Door Panels

Our expertise allows us to meticulously cut-to-size, ensuring a perfect fit for your unique project. Whether it's intricate shapes or specific cutout for a piece of hardware, we're dedicated to delivering solutions that align seamlessly with your vision.

Instant Quoting and Checkout

Experience convenience like never before with our instant quoting and streamlined checkout process. No more waiting – our innovative platform empowers you to receive instant quotes for your customized shower enclosure, enabling efficient decision-making. Once you're satisfied with your selections, our seamless checkout ensures a hassle-free ordering experience.
Suitable solution for Homeowners, Property Managers, Architects, General Contractors, Designers
Architectural plans

Our software will generate comprehensive architectural plans for your project automatically. Should additional customization be necessary, our technical team will make the necessary adjustments to those drawings.

Load Tests, Local Regulations and Compliance

We offer an extensive array of products and services tailored to various project types, locations, and compliance specifications. Additional documentation for inspections can be swiftly provided upon request.

Straightforward Installation

Our products are meticulously designed to ensure straightforward installation. All the necessary documentation is comprehensively detailed and accessible free of charge through our resource center.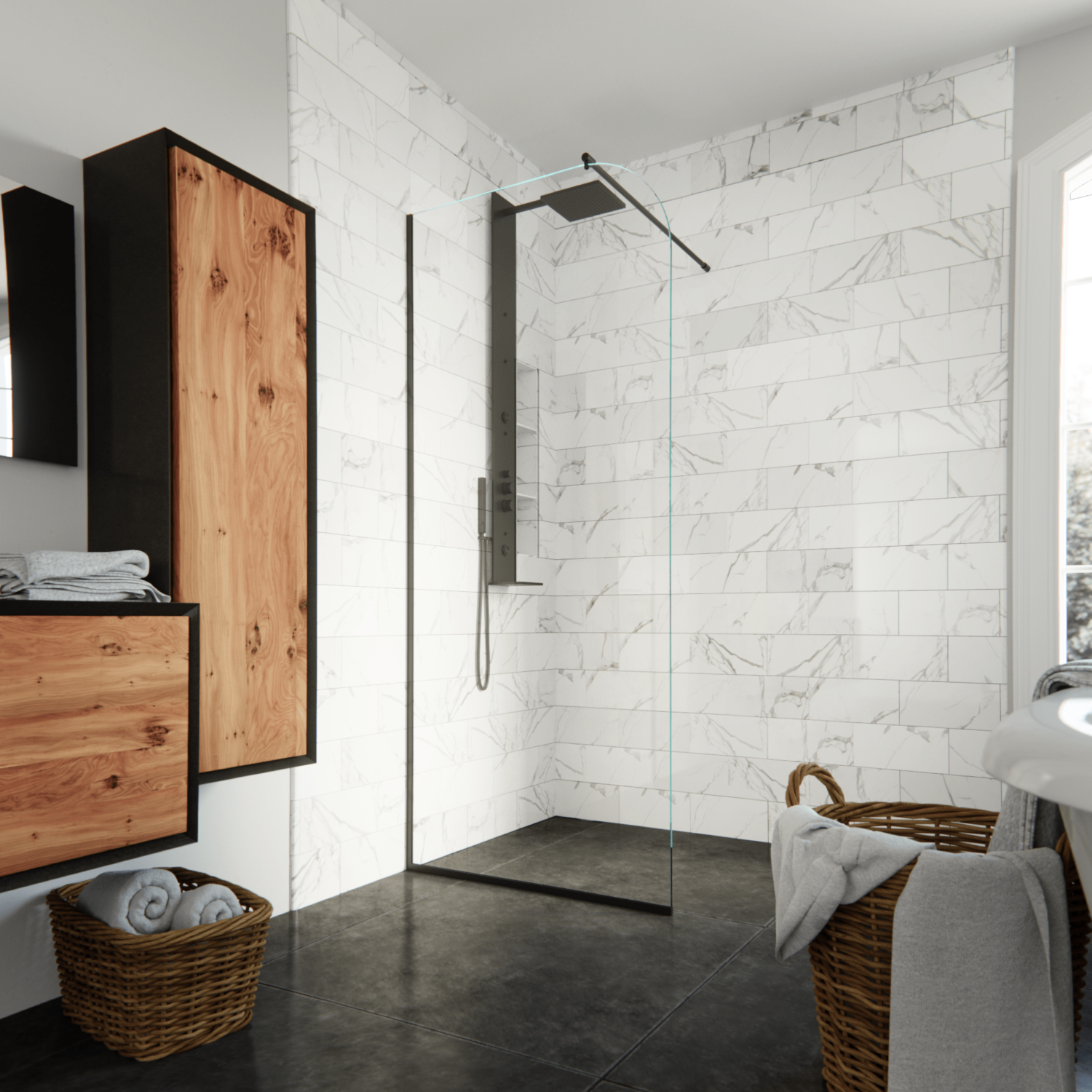 Individual Hardware Components
Our shower hardware finishing process includes three different applied methods, each resulting in a durable, corrosion-resistant, and visually appealing finish. These methods include electrophoresis (Matte Black), chrome plating (chrome), and nickel plating (Brushed Nickel). Regardless of the chosen option, our hardware finish process guarantees a beautiful, long-lasting finish that meets the highest industry standards for quality and durability, providing exceptional performance and visual appeal.
Why buy from Glassupply.com?
High-end Glass & Hardware Systems at Manufacturer Direct Pricing

No showrooms

Sturdy packaging

From the workshop directly to you!

We deliver custom cut glass, shower, railings and modern glass door systems directly to you. You get premium quality products at incredibly lower (and much fairer) prices than you would at a typical glass shop or retail reseller.

Learn more

Guaranteed Delivery Policy

Sturdy packaging

Fast

Reliable delivery

Our Delivery success rate is over 99% and is up and running across the country. Free Shipping on orders over $300. Any Damaged orders are replaced at no cost.

Learn more

1-year Warranty on any Manufacturing Defect

High Quality

Trusted Brand

Long Lasting Products

We offer a manufacturer's warranty on all our products. Our 1 year courtesy warranty service covers defects in glass, hardware and or workmanship. If you experience any issues, we will reship the defective product at no cost.

Learn more
UNIQUE PRODUCTS

100% Customizable Products

ONLINE CHECKOUT

Seamless Online Self Service

360° SUPPORT

Chat, Email and Phone Support

SECURE PAYMENTS

PCI Compliant Payments

PRICE MATCH POLICY

Offer details available here